solution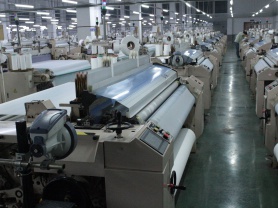 It solves the problem of high power consumption of weft accumulator of fan and easy to cause weft tension (faulty fabric) with ordinary weft accumulator for customers.
It has been the technical difficulty of the electronic weftfeeder since the weft strain has caused the fabric defects. Although the long and weftfeeder of fan in traditional textile industry can solve this problem, the loom has low speed, high energy consumption and serious noise, which is its fatal short board. For this reason, Origin people with years of industry experience and engineering practice, dedicated research, repeated testing, and finally overcome the problem. Ingenuity product permanent magnet synchronous servo weftfeeder was born.
Permanent magnet synchronous servo weftfeeder has precise servo control technology. The weft unwinding mode of restrained flight effectively reduces the weft insertion tension and completely solves the weft tension problem. At the same time, permanent magnet synchronous servo weftfeeder has the advantages of both electronic weftfeeder and fan length measurement. It can not only flexibly adapt to various weft yarns, but also effectively save energy consumption and reduce production noise. It has become the best choice to replace fan length measurement and soil length measurement perfectly.
Suzhou Yilong Textile Co., Ltd. has approved the servo weft accumulator after batch trial. More than 2,000 sets have been installed in batches. By calculation, compared with the traditional weftfeeder device, the electricity saving is as high as 85%.

Origin adheres to the enterprise mission of "technological innovation breakthrough, quality improvement, fast and perfect service". Relying on the company's strong R&D and design capabilities, Origin is committed to providing customers with more energy-saving and environmental protection products, actively guiding the technological innovation and upgrading of textile industry, and promoting the vigorous development of the industry.